MULE CROSSING: My Favorite Christmas Tradition
By Meredith Hodges
My favorite holiday of the year has always been Christmas! The sights, sounds and smells of Christmas transport me to a magical place for the whole month of December, and the excitement and joy of yesterday still ring true today. I cannot think of a more deserving holiday than one that celebrates the birth of Jesus Christ and promotes so much hope and serenity throughout the world, if only for a day. Christmas reminds us all that the spirit of sharing and giving is timeless and takes only a willing attitude and a little bit of creativity.
While I was growing up, Christmas in my family was filled with numerous traditions. When we were twelve days out from Christmas, we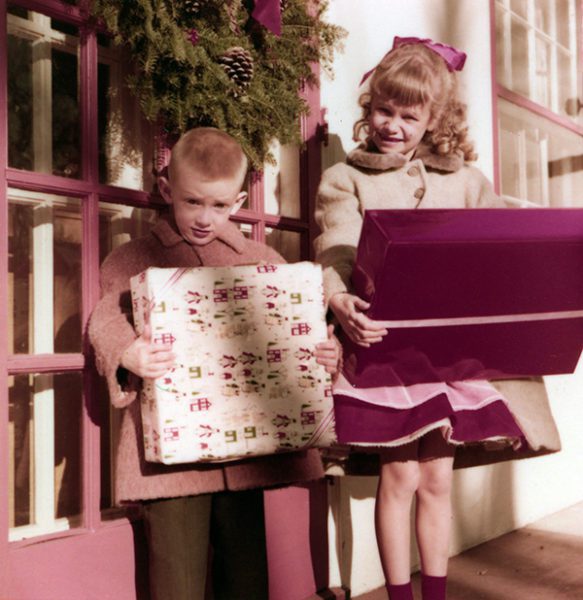 watched a 1955 film called On The Twelfth Day of Christmas. As you might guess, it was based on the old English song, "The Twelve Days of Christmas." Every year, the film
brought wild bursts of laughter, as we watched a proper Edwardian lady's townhouse in England become filled to overflowing with gifts from her suitor. Not only did she get the gift designated for each day, but also the same gifts from prior days plus the new one. By Christmas, her little townhouse was filled with 12 partridges in pear trees, 22 turtle doves, 30 French hens, 36 calling birds, 25 gold rings,  30 geese a laying, 28 swans a swimming, 32 maids a milking, 27 ladies dancing, 30 Lords a leaping, 22 Pipers piping and 12 drummers drumming! Laughter filled our house daily from that day forward, all the way up to Christmas. Of course, as children, we were also reminded of the "naughty and nice" list.