MULE CROSSING : Train Your Own Mule!
By Meredith Hodges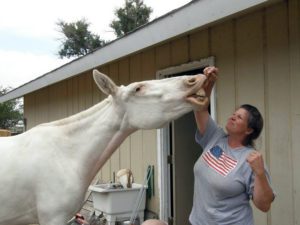 Mules and donkeys are wonderful animals. They're strong, intelligent and what a sense of humor! But training a mule or donkey is different from training a horse. They require love patience, understanding and a good reward system. Negative reinforcement should be used sparingly and only to define behavioral limits. The result is an animal that is relaxed, submissive, obedient, dependable and happy with his work.
Mule and donkey owners find it difficult to find trainers for their Longears because most horse trainers are unfamiliar with the psychological needs required by Longears to invoke positive responses from them. Those trainers who are capable are few and far between, making it difficult for inexperienced owners in remote areas to get their animals trained properly. Many people attempt to train their own animals and achieve a certain level of success despite the trials and tribulations of trial and error. This can be a long and frustrating road.